The Shop Ibiza is a successful, creative marketing and spectacular events company based in Ibiza and Barcelona with clients spanning across Europe.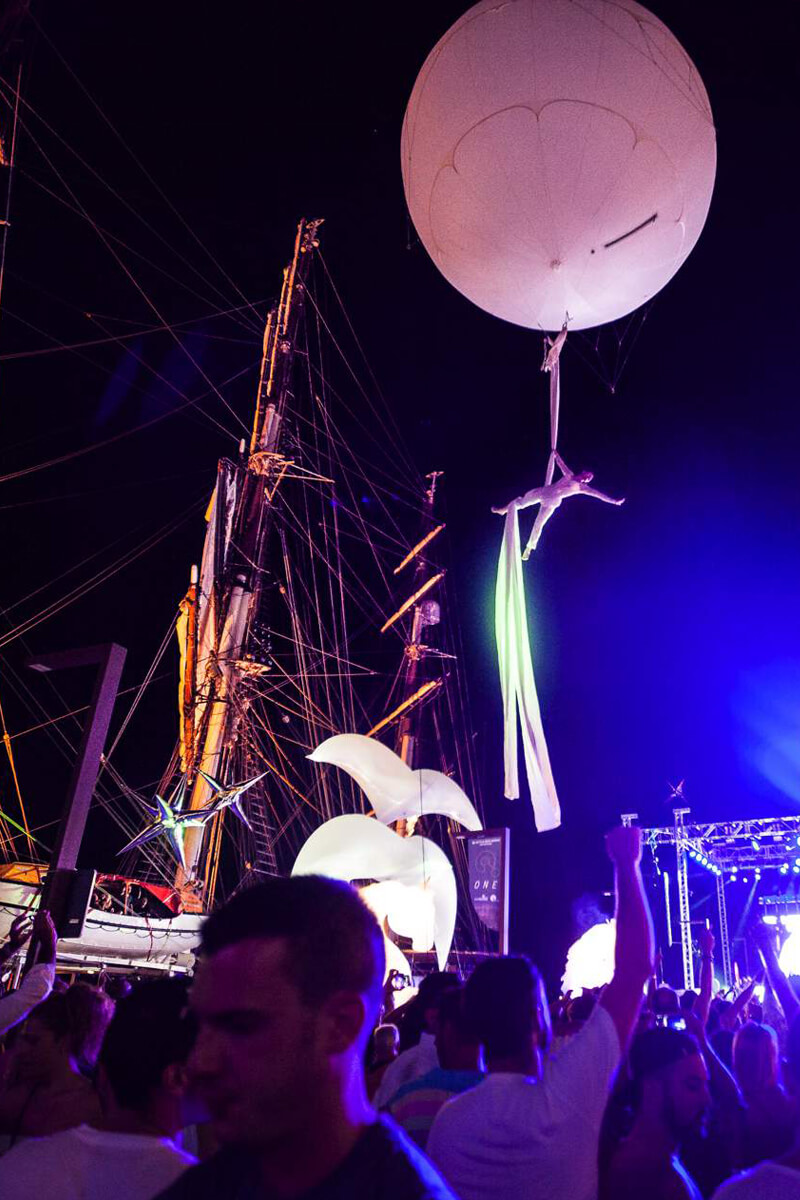 With over 13 years experience both on and off the island, in party planning, event design, production and management; The Shop Ibiza constantly presents professionalism, energy, and a team of creative and committed minds on every project.

Our services and products range from Ibiza Villa parties, from Snow Festivals in Andorra to sporting events in Barcelona achieved through our production skills, equipment hire and logistics team. Our unique positioning and direct contact at the heart of Ibiza means we can bring that creative sparkle to any event in Europe. Whether you are a corporate client organising some brand activation, a private client celebrating with a villa party or a couple planning a dream Ibiza wedding, our aim is to ensure your event experience surpasses all your expectations.

We take your ideas, expand them and then make them happen! We can be involved at the very beginning of a project, creating new designs and developing your production ideas or we can simply provide the hardware, equipment, staff and expertise to facilitate your plans.

Whatever level of our involvement we promise to bring to you an exceptional level of service.
Talking shop
Ibiza is a melting pot of nationalities, and The Shop's team comes from all corners of the globe to truly reflect this colourful community. We are all highly skilled on an international level, while providing a local service. As a company we promote training for all of our staff annually, and the team is always up to date with the latest operating procedures, software and safety protocols.

We have all chosen to bring our unique skills and experiences to Ibiza because we love and appreciate this unique way of life.
Simeon Friend
Managing director
Founding partner, International Music Summit, Ibiza
Founder, The Shop Ibiza
Talent booker, DJ, event manager for winter sports event company, the Alps
Record producer, DJ, Global events coordinator, Brand activation and marketing

Jesse van Stekelenburg
Production manager
Sales manager, Hugo Boss Benelux, Netherlands, Sponsorship manager, D&D Media , Co-owner of Nakupenda coffee bar, Barcelona, Office director, ABN AMRO Bank NV, Netherlands,Three favourite events at The Shop
Three favourite events at The Shop
1. IMS
2. Corona Sunset
3. Groove Armada on beach
Heiko Wiertelorz
Technical manager / Event technician
Sound and light technician, Germany. Electrician, Germany. Grand MA 1, Chamsys lighting and d&b audiotechnik training, configuration and set up. Head technician, Privilege Ibiza. Official Pioneer DJ service (repair). Official Pioneer Pro Audio install service
Three favourite events at The Shop
1. IMS Dalt Vila / Hard Rock 2014/15/16
2. Sundays and Diynamic Events at Beachouse Ibiza
3. Global Radio at Talamanca Beach 2015
Ivan Fernandez Menayo
Construction and installation
D&b audiotechnik training, configuration and set up, carpenter, construction and maintenance. Clothes shop manager, bartender.
Three favourite events at The Shop
1. International Music Summit
2. Corona Sunsets
3. Heineken
Ruth Herbert
Art director
15 years experience working in creative event production. Degree in Technical Art and Special Effects from the University of the Arts London. Art director at Noisily festival, UK. Designed, created and directed installations for Hermes, Glastonbury, Burning Man, The Natural History Museum.
Three favourite events at The Shop
1. Candy World
2. Can Basora
3. Alice in Wonderland
Oliver Guzman Wilkendorf
Event manager
Master of Events, Hanover, Germany. Lighting Console, GRAND MA1 and GRAND MA2 at Lightpower, Germany. D&b audiotechnik training, configuration and set up. Technical specialist, Prolyte, truss, easy Job, management software, vectorworks technical drawing. Repair and maintenance of Moving Lights. Project manager in Germany for 3 different companies such as Joke Event AG. Lighting programmer/design with GrandMA2 and MA VPU. Head of warehouse/logistics maintenance technical equipment.
Three favourite events at The Shop
1. Enter the Matrix, Sa Caleta Hills
2. Denial Events, NYE 16/17 Miami
3. Boat Party Ibiza
Sami Masmoudi
Sound technician
BSC (hons) audio engineering and production, Barcelona. Event Production and Promotor, Spain and Mexico. D&b audiotechnik training, configuration and set up. Set up at Mobile World Congress and World Padel Tour, Barcelona. Multiple set ups and auxiliar sound technician at Gran Teatre del Liceu de Barcelona, Fira Gran Via Event production and promotion in Barcelona and Mexico.
Three favourite events at The Shop
1. IMS Dalt Vila
2. Corona Sunsets
3. Boat parties
William Nicholas Robinson
Event manager / Sound technician
Studied at SAE institute Barcelona – Master of Live Audio. DnB audiotechnik training, Barcelona. 6 years of experience in events on the Island of Ibiza, from corporate events, festivals to private events. Diverse experience covering power, lighting, management, structures and sound. Production manager for the International Music Summit Conferences at Hard Rock hotel Ibiza. Official Pioneer Pro Audio installer.
Three favourite events at The Shop
1. International Music Summit
2. Enchanted Forest Party
3. Corona Sunset at Benimussa Park
Victoria Bussé
Production
Chemical Engineering, graduating from Universidad de Buenos Aires, Argentina. Product engineer and purchasing proffesional. Process designer, development of products, services, process and logistics. Working in the Ibiza events industry since 2011.
Three favourite events at The Shop
1. Enchanted Forest Party
2. Alice in Wonderland
3. JAX Private Party